Elder Abuse is a dreadful problem and is undoubtedly inexcusable. How can we reach out to the elderly who fall victim to abuse at the hands of family care-givers in their own houses?
While, we believe the situation is a difficult one for the elderly, it is also a sign of the stress and hardship the family care-givers faces.
Every day, public agencies, local comprehensive support centers, home care support offices are making a great effort to advocate the human rights of the elderly, while also supporting family care-givers.
In order to prevent the elder abuse, we created AAA (Anshindukuri Anzen sagasi Approach) which is enable better cooperation between the family perpetrators and professionals. AAA is an approach to create and maintain mental and physical wellbeing of the elderly. We would like to spread the concept and skills of AAA through our record sheets we developing. We wish AAA could help to prevent the elder abuse.
AAA team
Akemi Soeda (Kanto Gakuin University)
Hazuki Naganuma (Tokyo Metropolitan University)
Noriko Tuchiya (Rissyou University)
Yoko Matumoto (Denencyouhu Gakuen University)
Rika Tamai (Kokubunji City Hall)

We have designed and developed AAA in 2010, which is an interventional approach into elder abuse. The approach is based on Signs of Safety Approach as well as Solution?Focused Approach.
Its main feature is focused on the practitioner making partnerships with elderly victims and family perpetrators even in the early intervention stage.
It's very important to appreciate and compliment the strengths of the victims and the perpetrators , when making a partnership.
AAA provides practitioners with skills for talking with the perpetrators and the victims as well as skills for discovering the strengths of each, during home visits.
We also designed the recording sheets to use those skills in everyday practice.
This approach might be a tool for skillful practitioners to re-examine their everyday practice and could be an efficient tool for less experienced practitioners to support their clients.

We learned essential knowledge and skills for everyday use. We're so grateful.
After training, I feel as though I understand how to approach even the most difficult case.
Now I understand that assessing the strengths properly is very important. I appreciated the presentation.
From the role-play during the presentation, I learned that the 'complimenting' as well as 'having a chat' and other skills are worthwhile.
The usual long training programs are tiring, but this program was interesting. I'll try to follow AAA from tomorrow.
I have a good understanding that a balance between 'the problem-orientation perspective' and 'the strength perspective'is important.
I wish to participate this program again to learn more.
In everyday practice, we often intervene into the cases from only a moralistic point of view.
A separation of the elderly from the family perpetrators without their consent leads to unhappiness for them, Therefore we think using these sheets could prevent such a separation.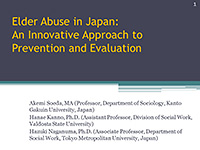 Elder Abuse in Japan: An Innovative Approach to Prevention and Evaluation
Presentation at 2012 Annual Conference of the American Society on Aging (2012328 Washington,DC)

Detail

PDF (1.8MB)
---